Applicators

APL 38s
Manufacturer:

United Barcode Systems
APL 38s is designed for medium and high volume production plants.
Compact and developed to be easily integrated to any end of line.
Controlled by a PLC, APL 38s is can easily be connected to different equipments of the line.
APL 38s is compatible with any OEM print engine in the market.
APL 38s is easy to install and integrate and offering a wide connectivity range to any IT or automatization system, through UBS Designer and UBS LabMan Software, that allow to manage and transmit data to or from any ERP, MES, WMS or DBMS.
APL 38s meets GS1 global standards of codification and traceability to print and apply labels on pallets complying with GS1-128 barcodes and the application identifiers (AI) recommended by the GS1.
Configurable to apply 1 or 2 labels on pallet

Compact with performance

Adaptable to any end-of–line

Optional barcode reader

Connectivity with ERP, MES, WMS, DBMS, etc.

GS1-128 / GS1 Approved

Production speed up to 200 pallets/ per hour (for

Easy access to change the media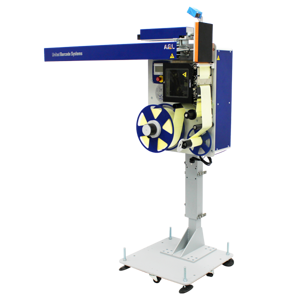 Paletový aplikátor
Pre aplikáciu dvoch štítkov v reálnom čase - zboku.
Etiketovacie zariadenie MD 3000 sa používa na aplikáciu samolepiacich etikiet na rôzne produkty v reálnom čase. Hlavným znakom tohto zariadenia je spôsob nanášania etikiet lisovaním, podložkou poháňanou pneumatickým pohonom a vyfukovaním stlačeného vzduchu.
Riadenie stroja je realizované pomocou PLC kontrolera, ktorý môže spolupracovať s nadradenou jednotkou, kontrolérom výrobnej linky alebo sieťovým počítačom, čo zároveň umožňuje spoluprácu s logistickými systémami.
Zariadenie môže byť vybavené rôznymi modulárnymi termotransferovými tlačiarňami.
Vďaka použitiu rôznych verzií etiketovacích hrotov dokáže zariadenie MD 3000 nalepiť etikety na produkty s rôznymi povrchmi, a to zboku aj zvrchu, ako aj cez okraj.

Označovanie sa môže vykonávať na produktoch v pokoji, ako aj na produktoch v pohybe. Okrem toho je tu funkcia kontroly prítomnosti štítkov na podložke, senzor priblíženia zabraňujúci poškodeniu označeného produktu a možnosť ukladania programov s nastaveniami. Zariadenie je možné vybaviť špeciálnym ovládacím panelom umožňujúcim jeho obsluhu bez spolupráce s počítačom.