CARTRIDGE (TIJ)
V našej ponuke sú dostupné aj Ink - Jet tlačiarne s využitím technológie na cartridge náplne. Tieto zariadenia je možné namontovať priamo na výrobnú linku. Použitie je skoro na všetky typy materiálov napr. papier, drevo, textil, plast, sklo, väčšina kovov atd. Ponuka je obohatená o ručné tlačiarne, ktoré môžu slúžiť na dotlač alebo tlač pri nízkom počte výrobkov. Sú šikovným pomocníkom pre vaše potreby. Nájdete u nás niekoľko typov zariadení od rôznych svetových výrobcov. 
PRE POMOC S VÝBEROM / PRE VIAC INFORMÁCIÍ NÁS KONTAKTUJTE PROSTREDNÍCTVOM ZASLANIA E-MAILU ALEBO TELEFONICKY.
Zariadenia:

Manufacturer

:

 

United Barcode Systems
Available devices:
UBS TJX 
UBS TJX LED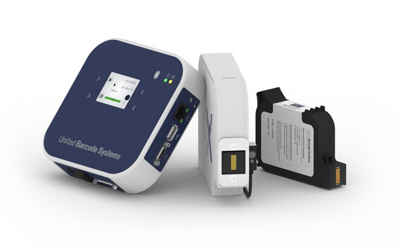 Water base and Solvent base Ink

1,7" screen for printer status view

1 USB x 1 RJ45, BLUETOOTH Connectivity

Up to 12.7 mm (0.5 in)
TJX hardware design is optimized for implementation into any production line or packaging machine. Additional cartridge protection thanks to "open lid" detection feature.
The electronic architecture of this printer allows fixed and variable messages to be generated and controlled. All this in real time and at high speeds and cadences.
TJX is capable to print serialized codes, preloaded in batches through communication protocol.
TJX Series printer can be managed form tablet with intuitive graphic interface for better control of current status and main printing characteristics.
Specially designed APP: TJX AppCode can be downloaded using bluetooth connection.
Thanks to its versatility UBS TJX Series printer is capable to print directly on any kind of surfaces (porous and non-porous) like glass, plastic materials, painted materials, paper, cardboard, wood, metal, providing universal solution for many industries: FFS machinery, food & beverage, pharmaceutical, cosmetic & personal care sectors among many.
Easy message creation using UBS Designer editor allows to get message created and sent to the printer in few simple steps.
Autoconfigurable UBS Cartridges

Adaptable to any production line

Clean technology, no leaking or heavy odors

Each cartridge is a new printhead

Fast & Easy integration

Up to 120 m/min printing speed

Printing on any surface

UBS Designer Lite / UBS Designer Pro
RUČNÉ OZNAČOVACIE ZARIADENIE - BSHG